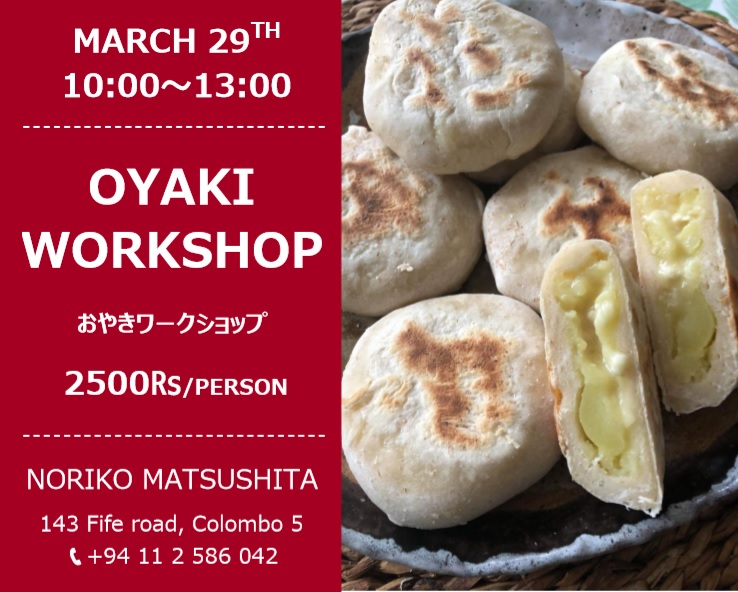 We are having an exciting and delicious workshop in March!
Oyaki is a Japanese dumpling often eaten in Nagano, Japan and is made of Miso and vegetables or any other filling wrapped in wheat dough then roasted.
In this workshop, we make such simple and delicious Oyaki, then cook and enjoy it together in the garden.
Salad and soup will also be served.
Time and date :MARCH 29TH 10:00~13:00
Place :143 Fife road Colombo 5
Fee :2500₨/per person
*Please write your name, phone number, whether you have any food allergy in email.
*What to bring on the day: a chopping board, a kitchen knife, an apron and a bowl
Details on the Instructor;
Ms. Mizuho AKAHANE
---
日本の長野でよく食べられている郷土料理「おやき」のワークショップを開催します!
小麦粉を水で溶いたもので具を包んで焼いたシンプルで美味しいおやきを手作りし、お庭にコンロを出して、みんなで、楽しく調理しましょう。
中に入れる具は当日のサプライズです。
出来上がった後は、ランチとしてお召し上がりください。サラダ、スープもご用意いたします。
日時: 3月29日 10:00~13:00
場所: 143 Fife road, Colombo 5
参加費:2500₨
*参加ご希望の方は、上記Eメールに(お名前、電話番号、アレルギーの有無)をご記入の上、ご連絡くださいませ。
*当日のお持物:まな板、包丁、ボール、エプロン
インストラクター紹介↓
赤羽瑞穂